"The Trial Lawyer Who Really Does The Toughest Jury Trials"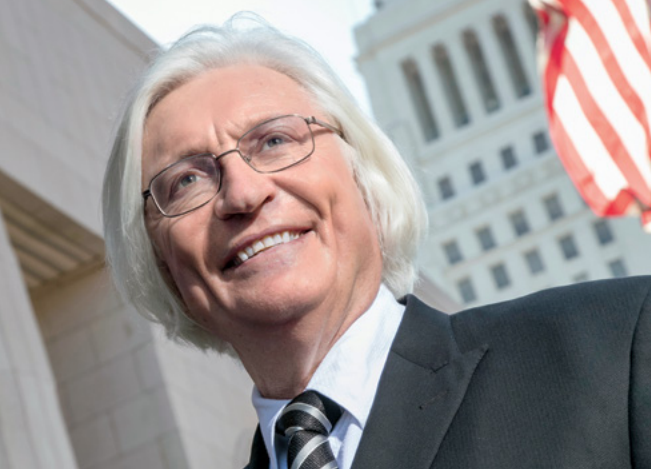 "Who has his trial record and experience?"
Thomas A. Mesereau is a trial lawyer who achieves remarkable success in high stakes criminal and Medical Board trials. Mesereau is dedicated to obtaining the best results for his clients. Whether it's a complex white collar case in federal court, a homicide case in state court, or a physician facing loss of a medical license in administrative court, the client comes first.
Trials are high-stakes encounters.
Mesereau takes risks. Mesereau likes impossible odds. His results speak for themselves.
Attorney Tom Mesereau is an unconventional, unpredictable trial lawyer. His accomplishments in the courtroom are extraordinary and unprecedented. He wins white collar and non-white collar trials in federal and state courts. For information on Mr. Mesereau's unconventional trial tactics, read the following articles by Mr. Mesereau: "Random Thoughts on Trial Practice" American Journal of Trial Advocacy 31:1 (Summer 2007): 115-135; "Lights, Camera, Objection!" The American Trial Lawyer Fall 2008; and "Defender Legendary for Second Sight, Sixth Sense" Los Angeles Daily Journal, December 5, 2006.
(Also read, Defending Michael, Daily Journal, July 1st, 2009.)
Mr. Mesereau is best known for acquitting the late Michael Jackson in his world-famous trial in Santa Barbara, California. Mr. Jackson was acquitted of all 14 charges in a child molestation indictment. Mr. Mesereau, as Mr. Jackson's lead trial counsel, conducted jury selection, opening statement, closing argument, and examined and cross-examined every major witness in the five and half month trial. But Mr. Mesereau has accomplished far more than the Michael Jackson case.
Tom Mesereau appears on the cover and is featured in the Premiere 2015 Edition of Attorney At Law Magazine. (See Article: Tom Mesereau, Attorney of the Month. The Man. The Trial Lawyer. The Speaker.)Tom Mesereau Has Been Named "Trial Lawyer Of The Year for 2015" By The National Trial Lawyers.
(See video: Introduction of Mr. Mesereau in Miami By The National Trial Lawyers.)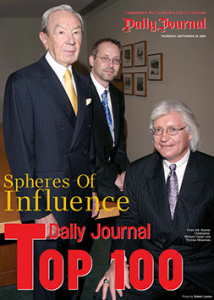 Attorney Tom Mesereau is of Italian, Irish, and French-American extraction. His two grandmothers, Mary Sullivan and Rose Cullen were Irish. Tom's maternal grandfather, Eugene Leone, immigrated from Northern Italy after arriving at Ellis Island, New York. Known as "Gene," he was the owner and operator of the famous "Mama Leone's Restaurant" in Times Square, New York City. Mr. Mesereau' s paternal grandfather, Arthur, was French-American.
Mr. Mesereau was born in West Point, New York. He was raised in New York City and Englewood, New Jersey.
He attended St. Cecilia's Grammar School; Loyola School; Bergen Catholic High School and Phillips Academy, Andover, Massachusetts. Tom Mesereau graduated with honors from Harvard University; earned a Masters of Science Degree from the London School of Economics and his law degree from The University of California's Hastings College of Law.
Prior to graduate school and law school, Mr. Mesereau served as a legislative assistant and speechwriter to a United States Congressman from New York. He then worked as a specialist on energy legislation for the Interstate and Foreign Commerce Committee of The United States House of Representatives. Following graduate school and law school, Tom Mesereau was a litigation associate at a national civil litigation law firm (Hunton & Williams). He then served as Assistant to the President of a wholly-owned subsidiary of the Getty Oil Company, working on legal, administrative, and business matters. Tom was a state prosecutor in southern California before entering private law practice.
Tom Mesereau founded and co-manages the Mesereau Free Legal Clinic in Los Angeles. Lawyers, law students, college students, and concerned citizens come together twice a month to assist the poor. A scholarship for homeless children has been named after Mr. Mesereau. Each year, Mr. Mesereau marches with the Woman of Watts and their children against gang violence.
Consider the following examples of historical milestones in Mr. Mesereau's career as a trial lawyer:
Mr. Mesereau received his Bachelor of Arts from Harvard University, cum laude. He earned a Master of Science from the London School of Economics, and his Juris Doctor from the University of California, Hastings College of Law.
Mr. Mesereau is a member and President of the Litigation Counsel of America, a Trial Lawyer Honorary Society representing approximately 3,500 fellow trial lawyers. Each year, this organization awards the "Mesereau Cup" (named after Mr. Mesereau) to the top criminal defense lawyer in the nation. He is also a member of the Executive Committee of the National Trial Lawyers Association, a national organization composed of the Top 100 Trial Lawyers from each state.
He has been named one of America's 100 Most Influential Trial Lawyers by The National Trial Lawyers Association. Also, in April 2011, Loyola Law School, Los Angeles presented Mr. Mesereau with the prestigious 2011 Fidler Institute Award for Excellence in Criminal Defense. In December 2011, the Los Angeles Times distributed a list of the top lawyers in Southern California. Mr. Mesereau was named criminal defense lawyer of the year.
The National Association of Distinguished Counsel, a national organization of select attorneys, named Tom Mesereau among the nation's Top One Percent of attorneys.
Prominent Journalist, Barbara Walters named Tom Mesereau one of the year's "Ten Most Fascinating People," for his trial excellence and commitment to representing the underprivileged. (See Barbara Walters Interview, Video Presentation and Barbara Walters' Letters to Mr. Mesereau.)
Professor Laurie Levenson, a prominent legal analyst and former federal prosecutor, has called Tom Mesereau the "best cross-examiner" she has ever seen. (See Larry King interview, Video Presentation.) Beth Karas and Jami Floyd, highly regarded attorneys and long-time legal analysts for Court TV both say that Tom Mesereau is the best trial lawyer they have ever seen. (See Jami Floyd Interview, Video Presentation.) Rikki Klieman, award-winning criminal defense attorney and also a noted Court TV legal analyst, once called Mr. Mesereau "…if not the best, one of the best cross-examiners I've ever seen… He deserves all of the praise he gets." Judge Lloyd M. Nash of the Los Angeles County Superior Court called Mr. Mesereau "one of the finest lawyers I have ever seen" after watching Mr. Mesereau cross-examine prosecution witnesses in the Robert Blake murder case. (See Los Angeles Times, March 27, 2003)
Tom was also named the "Criminal Defense Lawyer of the Year" by the Century City Bar Association, Los Angeles, when he freed actor Robert Blake, from jail. California Lawyer Magazine awarded Tom its highest award for excellence in criminal law when he acquitted pop legend Michael Jackson of fourteen charges of alleged conspiracy and child molestation. Tom's alma mater, the University of California's Hastings College of Law, has named him the "Alumnus of the Year". He has received the "Jerry Giesler Memorial Award" from the Criminal Courts Bar Association of Los Angeles . . . in recognition of his outstanding skill, perseverance and achievement in representing his clients in trial."
Mr. Mesereau has received many other awards for his trial excellence and work for the underserved in American communities.